What is the definition of sports car, exotic car, super car, touring car, grand touring car, sports sedan, and other commonly used car terms? Let's give it a try here:
Sports car:
It must be a two-seater or 2+2-seater. It must be fun to drive and have sporting credentials in regards to handling and looks. There is no requirement for high horsepower, it is more a question of character. It can be  a coupe or convertible. It cannot be a big and heavy car.  So let's try a few examples. First some easy ones. MGA, MGB and MGB GT all qualify. Triumph TR 3, 4, 5, 6 and Austin Healey also fit easily into this category. Now some newer cars. Mazda Miata/MX5 definitely fits the bill, and probably a Chrysler Crossfire and Mercedes SLK. How about a Chrysler Sebring Convertible? No, this is not a sports car, just a convertible version of a sedan. How about Porsche 924, 944, 911? Yes indeed, they should all be considered sports cars. How about a Ferrari 360 or 430? These models fit all the requirements, and are indeed high end sports cars.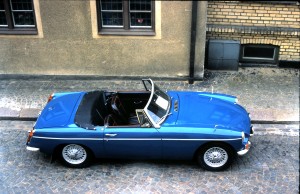 MGB, definitely a Sports Car
Grand Touring Cars:
A grand touring car shares many characteristics with a sports car, but generally would be a somewhat larger and heavier car that provides improved comfort at the expense of sportiness and handling. It can be a 2 seater, 2+2-seater or even a 4-seater. Sporting credentials and a powerful engine are prerequisites, but maybe also a reasonably sized trunk. Let's see if some examples will help. Are Mercedes SL550 or SL55 AMG Grand Touing cars or sports cars? They probably fit better into the grand Touring category, but they are good examples showing how difficut it can be to catgorize cars. Cars that easily fit into this category are Jaguar XK, XKR and XKRS, Aston Martin DB9 and DBS, Ferrari 550, 575 and 612. Porsche Panamera would fit nicely into this category.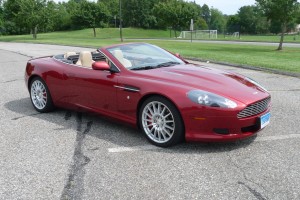 Aston Martin DB 9, a Grand Touring Car
Exotic Cars/ Super Cars:
There are many sporting and high performance cars that cannot be classified into the categories above. How about Bugatti Veyron, Spyker, Königsegg, McLaren? Are they not sports cars or grand tourig cars? Maybe they are extreeme sports cars, but they are hardly grand touring cars. Should a GT car not have room for more than your toothbrush, and do they offer acceptable comfort for really long drive? If it costs $30,000.00 to change a set of tires, the car definitely qualifies to be categorized as an exotic car.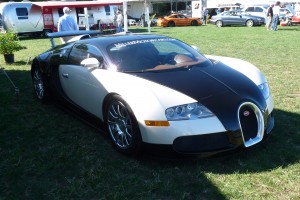 Bugatti Veyron, an Exotic Super Car
Muscle Car
Wikipedias definition of muscle car:  The term is used to refer to a variety of high-performance automobiles. The dictionary defines muscle cars as "any of a group of American-made 2-door sports coupes with powerful engines designed for high-performance driving. A large V8 enginee is fitted in a 2-door, rear wheel drivee, family-style mid-sizee or full-size car designed for four or more passengers. Sold at an affordable price, muscle cars are intended for mainly street use and occasional drag racing.  They are distinct from two-seat sports carss and expensive 2+2 GTs intended for high-speed touring and road racing.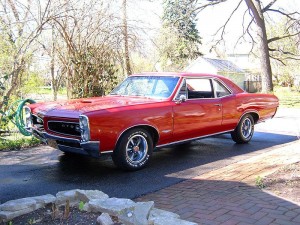 Pontiac GTO, definitely a Muscle Car
Pony Car
The 1964 Mustang provided the template for the new class of automobiles. The term itself "was coined by Dennis Shattuck, who was editor of Car Life magazine" at the time.[The term "originates from the equestrian sounding Ford Mustang", and may also refer to the Ford Mustang's logo (a galloping pony).
Although the Mustang was based on the platform of the Falcon, it had a unique body (offered as a hardtop coupé and a convertible) with distinctive, "long hood, short deck" proportions. In basic form it was mechanically mundane, with a 170 cu in (2.8 L) six-cylinder engine coupled to a three-speed manual transmission. It carried an attractive base price of US $2,368 that included bucket seats, carpeting, floor shifter, sport steering wheel, and full wheel covers. The Mustang also had an extensive option list offering a range of V8 engines, Cruise-O-Matic automatic transmission or four-speed manual gearbox, radios, air conditioning, power steering, and other accessories. A V8 Mustang with all available options would cost about 60% more than a basic model with a six-cylinder engine, which made it an extremely profitable model for Ford.
  Ford Mustang, the original Pony car
Hot Rod
Wikipedia: Hot rods are typically American cars with large engines modified for linear speed. The origin of the term "hot rod" is unclear. One explanation is that the term is a contraction of "hot roadster," meaning a roadster that was modified for speed. Another possible origin includes modifications to or replacement of the camshaft(s), sometimes known as a "stick" or "rod". A camshaft designed to produce more power is sometimes called a "hot stick" or a "hot rod". Roadsters were the cars of choice because they were light. The term became commonplace in the 1930s or 1940s as the name of a car that had been "hopped up" by modifying the engine in various ways to achieve higher performance.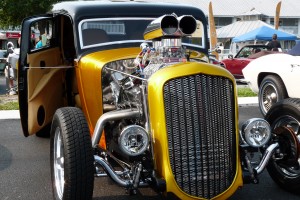 Hot Rod
Sports Sedan
What is a sports sedan? The simple answer is a sedan that is designed with sporting credentials, such as good handling, good feedback for steering and brakes, and enjoyable to drive. Some brands have these characteristics on most of their models, such as BMW, Audi, Mercedes, and maybe also Jaguar, Infinity and Mazda. Some brands make special models with more sporting character and affix an SE badge or similar. Maybe a Toyota Camry SE or Nissan Maxima SE can be considered sports sedans, since they have been specially tuned for the car enthusiast. As usual there are no clear boundaries, and no absolute answers. 
Share your thoughts
The definitions above are hardly scientific but rather subjective. Feel free to share your thoughts.