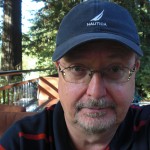 My name is Roland Westerdal, and I am a car buff, and car collector. I am going to attempt to put together a website that is all about cars.  Sports cars, high performance cars, muscle cars, super cars, exotic cars and classic cars. There will be editorials, photo galleries, video galleries, and naturally blogs.
My car history.
Sometimes several cars owned simultaneously. Order is mostly chronological.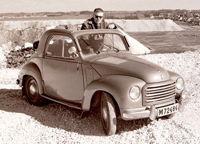 Fiat 500 Topolino, 4-speed, 1951
Manufactured between 1937 and 1955. It was equipped with a 4-cylinder engine with 569 cc, 13 horsepower, 4-speed manual with  non synchronized first and second gears. Over 520,000 were made. Bought used for $50.00 It was a blast!
Manufactured between 1959 and 1967. It had a 4-cylider engine with 997 cc displacement, and had a 4-speed manual transmission. Over 1,000,000 were made. ……………………………………………………….
Triumph Herald Coupe, 4-speed, 1960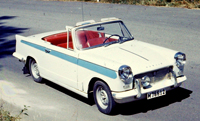 Herald (all models) was manufactured between 1959 and 1971. It was equipped with a 4-cylinder 948 cc engine with 39 HP. It had a 4-speed manual gear box. Herald was designed by Italian design house Michelotti. Over 500,000 were produced.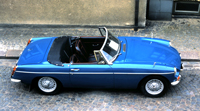 MGB, 4-speed w. overdrive, 1966
MGB was manufactured between 1962 and 1980. It had a 4-cylinder engine displacing 1798 cc, and it produced 100 HP. It had an electric overdrive on the top gear. 399,070 were made.
The first generation Mustang was manufac-tured between 1964 and 1973. My 1971 was equipped with a 302 ci engine rated at 140 Hp. It had a 3-speed automatic. Unknown production volume.
MGB was manufactured between 1962 and 1980. It had a 4-cylinder engine displacing 1798 cc, and by now the horsepower was reduced to 95, due to emission controls. No overdrive on this one. 399,070 were made.
Oldsmobile Cutlass Supreme, 350 V8, 2-door 1975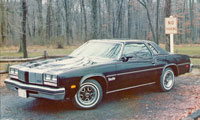 The fourth generation Cutlass was manufactured between 1973 and 1977. It was the best selling model in the US with annual sales of about 600,000 units. My car had a (tired) 350 ci (5.7 liter) engine, with a three speed automatic transmission.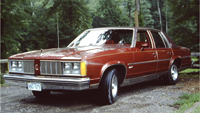 Oldsmobile Delta 88 Royale, V8, 1978

The 1977 through 1985 model was seriously downsized as compared to the previous model. It cut the weight by 900 lbs. It was equipped with a 350 ci engine with a 3-speed automatic. It was not an enthusiast car!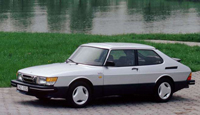 Saab 900 Turbo, 2-door hatchback, 4-speed, 1982
Saab 900 Turbo was introduced in 1979, and it was the first production car to be available with a turbo charged engine. The engine was a 2 liter that produced 143 HP. This was a true drivers car, especially on road trips
This third generation (1985-88) of Toyota Cressida had the peak sales year in 1985, with 45,000 sold in the US. The car had a 2,8 liter V6 with 161 HP and a 4-speed automatic. It had a happy high revving engine and was actually a great driver's car.
This was  the third generation (1988-94) of Maxima, and it was equipped with a 3,0 liter V6 that produced 160 HP. It was marketed as a 4-door sports car by Nissan, and it was a good driver's car.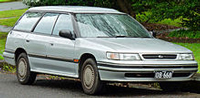 Subaru Legacy Station Wagon, 1993
This car had all wheel drive and a 2.0 liter four cylinder engine. It made it easy to drive on snowy New England roads in the winter.
Nissan Maxima SE, 5-speed, 1996
This fourth generation of Maxima was produced between 1995 and 1999. It had a 190 HP 6-cylinder engine and a 5-speed manual transmission. It was a great driver's car and had sporting credentials.
The 1999 model year introduced a new 4.7 liter V8, that produced 235 HP. This was a rev happy engine and it felt more like a sports car engine than a truck engine. I  wish I had this engine in the 1971 Mustang.
This was the third generation of Outback, produced between 1999 and 2004. It had a 2.5 liter boxer engine with 165 HP. This car was a practical car but it was under powered.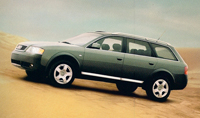 Audi Allroad, 2.7 Liter twin turbo, 2002
The Allroad was in principle the same concept as Subaru Outback. An all wheel drive car, with adjustable air suspension and some body cladding to make it look tough. It had a 2.7 liter, twin turbo V6 that produced 250 HP.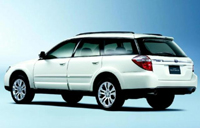 Subaru Outback LL Bean, V6, 2006

This was the fourth generation of Subaru Outback, sold between 2004 and 2009. It was equipped with a rev happy 6-cylinder boxer engine producing 250 HP. This engine upgrade made a huge difference, but this is a family car rather than a driver's car.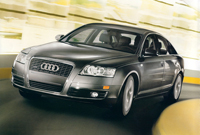 Audi A6, S-line, 4.2 liter V8, 2006
The S6 model was not available at the time, so I purchased the A6 with the 4.2 liter V8 and the S-line package. The engine produces 350 HP. This is still a great driver's car and family sedan.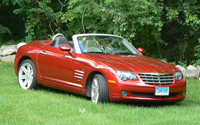 Chrysler Crossfire convertible, six speed manual, 2005
Crossfire was based on the Mercedes SLK platform, with engine and gear box right out of the SLK. It just had a much prettier body! It has a 3.2 liter V6 engine producing 215 HP, and a 6-speed manual transmission. It reminds me of the MGB sports cars of old.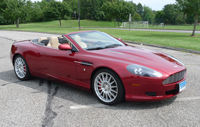 Aston Martin DB 9 Volante (Convertible), 6-speed manual, 2006
This is the true Grand Touring car. It is equipped with a 6.0 liter V12 producing 450 HP, and a 6-speed manual transmission. The active exhaust makes for wonderful sound tracks.
Porsche Targa 4, 6-speed manual, 2007
The Targa is basically built on the Carrera Convertible chassis. A sliding glass sunroof is the main distinction, but the rear window also opens like a hatch back. All Targas are 4-wheel drive.

The 2011 KIA Sorento has a 3.6 liter 271 HP V6 engine, that is very rev happy. It has three row seating, dual sun roofs, backup camera and navigation system. It's quite a nice package.
The XKR has a 4.2 liter supercharged V8 that produces 420 enthusiastic HP. The exhaust is pleasantly loud and the supercharger's whine adds to the thrill.
The 599 has a 5.99 liter V12 engine generating 611 HP. It has an F1 transmission, or an automated manual transmission, which is controlled with paddles. The engine red-line is 8,400 RPM, and it generates sound similar to older F1 race cars. It was produced between 2006 and 2011. Unknown production volume.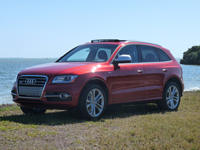 Audi SQ5, 2015
The SQ5 has a supercharged 3.0 Liter V6 producing 356 HP. This engine in combination with a double clutch transmission makes for instant power and exciting acceleration. With sports suspension and summer high performance tires it handles much better than yesterday's sportscars.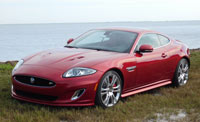 Jaguar XKR Coupe, 2014
This Jaguar has a 5.0 liter supercharged V8 producing 510 HP. The body and suspension is much stiffer than the 2009. The Dynamic setting sharpens suspension and steering response.
Jaguar E-Type 1969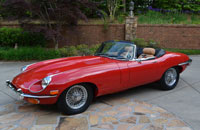 This 1969 Jaguar E-Type Series II isequipped with a 4.2 liter double overhead can engine. The series II have many improvements as compared with earlier cars, which made for a better driving car. This example has only 10,200 original miles and has undergone a complete restoration.